CASA Kane County Shoots for Success with 7th Annual Clays for Kids
Max McGraw Wildlife Foundation in Dundee is the perfect setting for shooting clays and raising funds.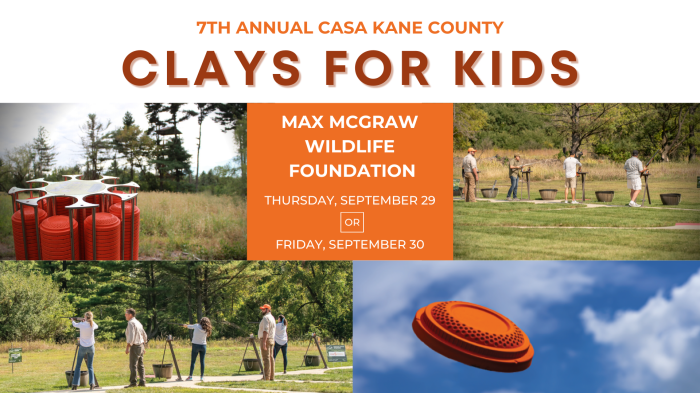 Last year 140 shooters took part in this two-day event. Groups of four can be registered and participate in a day of outdoor adventure.  All levels are welcome and encouraged to attend, but spots to participate are limited!
The day begins with brunch and time to practice. After a warm welcome, a basic overview and the rules, the Clays Tournament begins. Following the clay shoot, participants are invited to a cocktail reception, silent auction and awards.
The natural setting of the Max McGraw Foundation combined with its first -class facilities make McGraw a perfect location to host this wonderful fundraiser event.
Max McGraw's mission is "To champion America's heritage of hunting and fishing as essential to managing our natural resources, and building knowledge, sharing experiences, and creating the memories that last lifetimes."
Being a private foundation, this location is not open to the public. This is a unique opportunity that will showcase one of the finest Clays Sporting courses in the Midwest. The Max McGraw Wildlife Foundation sits on 1224 acres of hardwoods, prairies, lakes, gravel pits and streams, on the Fox River in Dundee, IL.
Whether a beginner or experienced shooter, Max McGraw staff ensures participants feel safe and equipped during the clays experience on the scenic clays course. The course is laid out in natural surroundings and include 15 shooting stations with shooters moving from one station to the next to complete the course. Each station presents shooters with a different type of shot.
This is the event to practice your hunting skills or just have a good time. See some Frequently Asked Questions about the Clays For Kids Event.
Clays For Kids FAQ's
What is Sporting Clays shooting?
Sporting clays was developed in the U.K. and brought to America in 1980. Since then, it has exploded across the country to become one of the most popular shooting sports in the country.
Sporting clays is shot on a course made of 10-15 stations. These stations are laid out one after another, like holes on a golf course. Some stations feature one, two, or more clay-pigeon launchers, all throwing targets at different heights and angles. There are no official rules regarding how these launchers must be positioned, so no two sporting-clays courses are the same.
Compared to trap and skeet, sporting clays offers the widest variety of hunting-style shots. This makes it great way to sharpen your skills for the season or to keep them sharp all year.
Do I need to be a member of Max McGraw to participate?
Not for this fundraiser event. Max McGraw is a foundation based on membership and outside of private events public is not allowed.  
Is there a minimum age requirement for shooting?
Minimum age is 13, accompanied by adults. 
Do I need my own shotgun to participate?
NO – McGraw provides free gun rental for anyone that does not bring their own 
Do I have to bring my own ammunition?
NO – Max McGraw will provide 12-gauge ammunition.
Are there restrictions on what kind of shotgun and ammunition I can bring?
Max McGraw will provide 12-gauge ammunition. If you are interested in bringing your own gun and ammo, bullets must be STEEL, NO EXECPTIONS! Max McGraw is a wildlife foundation preserving the land and animals, they are adamant about this due to lead in other types of bullets poisoning the groundwater for local wildlife.
What safety equipment is required to shoot?
Eye and ear protection is mandatory for all shooters and will be provided the day of.  
Can you participate if you are a beginner?
Yes! No matter if you are a beginner or experienced shooter, this event is open to all levels! The Max McGraw Staff will provide an overview and review of the rules. There will be staff along the way as well to assist with any questions throughout the course., you will enjoy your time on the Max McGraw scenic clays course.  
Can I make special arrangements to bring a group of people?
Yes! Groups usually consist of 3-4 people, and we can accommodate larger groups by placing them next to each other.