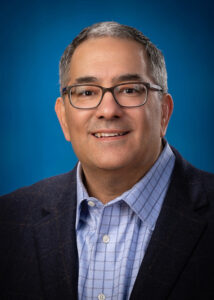 Jim and his daughter Celina, have been residents of the St. Charles community for several years. He received an undergraduate degree in accounting, obtained his CPA and subsequently received an MBA in Management and Finance from DePaul University, Chicago. Jim has spent over 35 years in the financial services industry, where he has held several leadership positions. 
In 2017, Jim joined the St. Charles Area Chamber of Commerce as President and CEO where he lead the organization and its 650+ membership in strategy, community relationships, sales, customer retention and programming.  Jim was recognized for his outstanding leadership and contributions to the members and the business community at large throughout the pandemic.  Most recently, Jim was Vice President of Strategic Initiatives at Vertex Resource Group.  At Vertex Jim worked with the ownership team on a strategic growth agenda and deployed initiatives to support that growth.
In addition to Jim's corporate experience, he is an active community leader, who is passionate about building relationships and giving back. Jim is Founder of Random Acts Matter and has held various volunteer and leadership roles within the community, including but not limited to his faith community. He was a past Board President of TriCity Family Services and has served on other non-profit/membership boards, including Common Threads, The Illinois CPA Society, and Bank Administration Institute of Illinois.
Jim is thrilled to be part of the mission of CASA Kane County to Change a Child's Story. 
Meet Our Executive Committee
CASA Kane County's Board of Directors is comprised of community and business leaders who serve as ambassadors in the community, speaking on behalf of the CASA/GAL program. One of their many responsibilities is to serve as a conduit of information about the on-going need for philanthropic support. The Board is also responsible for producing a community benefit report and financial report, and has fiduciary responsibility for the proper management of all donations.
Meet Our Board of Directors
Wintrust Financial Corporation