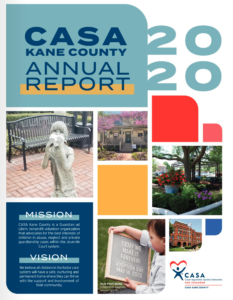 Changing a Child's Story is what we do for children in the foster care system who have been abused and neglected by the hands that were supposed to protect them. We have the unique position of being appointed by the Juvenile Court Judge to advocate for the child's best interest and work alongside DCFS and other agencies to find children the safe, permanent home they deserve. CASA provides the constant and stable adult presence in the child's life.
We are governed by 25 Board of Directors, 19 professional and experienced staff along with 250 CASA/GAL volunteers who have been recruited, trained and sworn in under oath to be the GAL (Guardian ad Litem) for children.  CASA Kane County is 
one of over 1,000 CASA organizations across the country, and one of 38 within the State of Illinois.
The organization is a registered 501(c)(3) organization, and relies solely on philanthropic support from individuals, grants and special event fundraising to support its operations. The CASA Kane County office is located in the downtown district of Geneva in the old courthouse that represents a county with over 500,000 people serving 28 cities.
REALITY: Child abuse and neglect affects children of every age, race and income level. 
CASA Kane County is a Guardian ad Litem, nonprofit volunteer organization that advocates for the best interests of children in abuse, neglect and private guardianship cases within the Juvenile Court system.
We believe every child deserves a safe and permanent home.
We believe that all Advocates, Board of Directors, Chairman's Advisory Panel members, and Friends of CASA should be welcomed, trained appropriately, appreciated and supported by the staff; and provided with a healthy environment in which to gather, work and volunteer.
We believe that our staff deserves a collaborative and conducive atmosphere that allows them to fulfill the organization's mission, one that demonstrates respect and value for each individual's talents and gifts as they enhance the leadership of the team, promotes respect for each individual's role, opinions, time, and space; focuses on hiring competent people suited to each position in the organization; and provides continuing education opportunities.
We believe that our donors deserve to be educated and informed of CASA's mission and goals; to see evidence of financial responsibility; to be inspired to invest in our longevity; to be recognized with respect and confidentiality for their gifts and generosity; and to have questions on how their dollars are spent answered in a timely and transparent manner.
We believe we have an obligation to our communities to elevate awareness of our program and the broader child welfare concerns including poverty, diversity, mental health, substance abuse, domestic violence and other issues impacting families; and to continually extend collaborative efforts among other community agencies and court partners to achieve common goals.
We believe that our goals and objectives must always be aligned with our mission, vision, and values. We take great pride in being an organization that is united with our judicial partners to ensure that all maltreated children have the right to competent, well-trained CASA/GAL volunteers who will positively impact their lives and future outcomes.
Through caring and dedicated volunteers, CASA of Kane County will advocate for all children in need, will generate awareness of their plight, and will cultivate strong partnerships with individuals and organizations committed to bettering the lives of abused and neglected children. CASA of Kane County will advocate for the best interests of each and every one of its children, and in doing so, help ensure that the child client's rights listed below are received and respected.
Every Child Has A Right to: