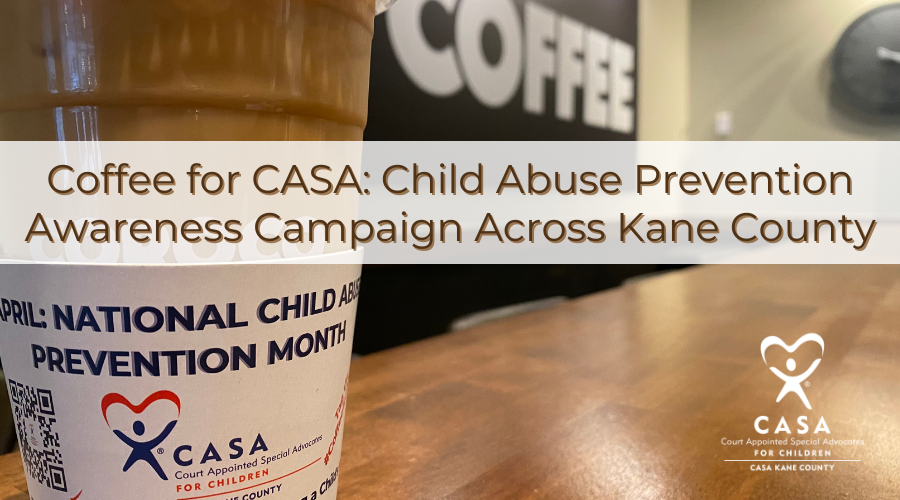 Coffee is not just a beverage, but a daily part of life, and a passion for millions of people around the world. Coffee shops have become more than just a place to grab a cup of joe; they have become a social hub for communities to come together, relax, and connect over their love for coffee. Local coffee shops, in particular, are a great place to host events, meet clients, host meetings and gain a different perspective.  
These cozy and intimate establishments offer a personalized experience. They are the embodiment of the local culture and provide a sense of community that is hard to find elsewhere. Supporting local coffee shops is crucial for maintaining the unique character and flavor of a city, while local coffee shops not only serve delicious coffee, but they also contribute to the overall well-being of their community.
CASA Kane County has been thankful to create a unique partnership with eighteen coffee shops in Kane County. Throughout the month of April these establishments have agreed to help CASA Kane County Spread Awareness of Child Abuse Prevention Month!
CASA Kane County has created custom branded coffee sleeves that have a unique QR code to direct people to gather more information about CASA Kane County and our mission to advocate for the best interests of children in abuse and neglect cases within the Juvenile Court System.  There has been a heartbreaking increase in incoming cases in the Kane County area. The need for volunteers is rapidly increasing as the number of cases rises.  CASA hopes to gain volunteer inquiries and donors with this campaign!
Below is the list of where you can grab a cup of joe and find CASA's branding!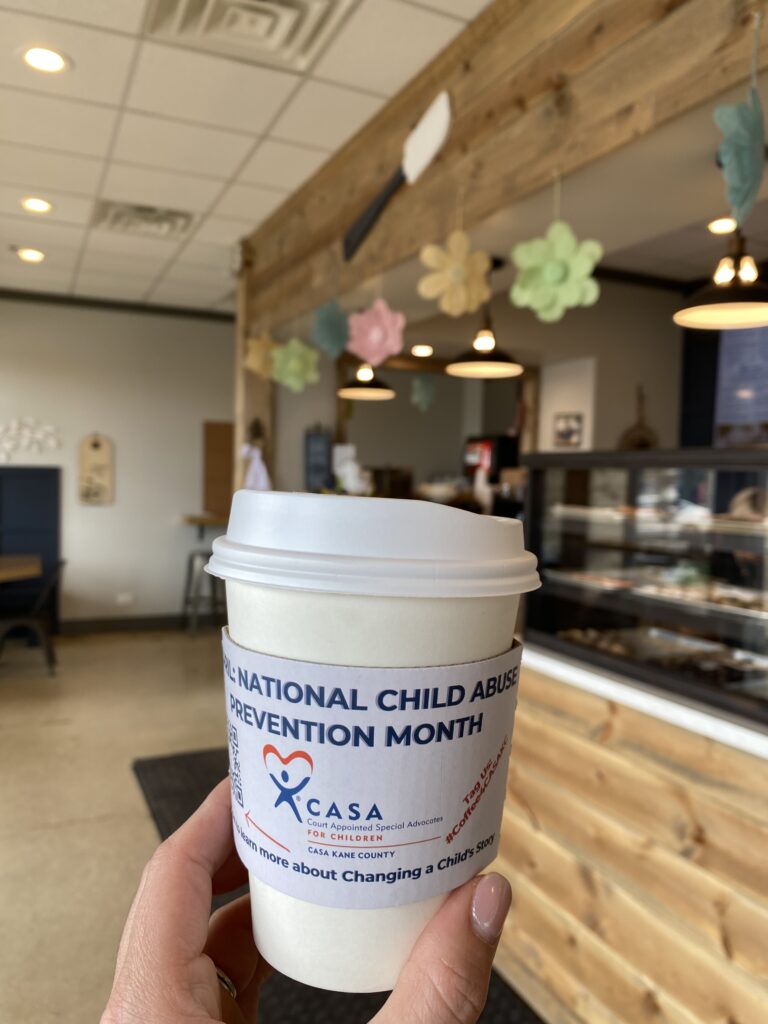 The coffee for CASA Campaign across Kane County was to bring a larger awareness across the county for Child Abuse Prevention and to make community members aware that this is happening in their back yard. We advocate for children that have entered the foster care system at no fault of their own will have a safe, nurturing and permanent home where they can thrive with the support and involvement of their community.
If you visit a location with our sleeve scan the QR code and learn more about CASA. Snap a picture, share on your social media accounts to help CASA spread awareness with your audience. Tag @CASA_KaneCounty and use #Coffee4CASAKC to share.
CASA Kane County is currently seeking VOLUNTEERS!
CASA would like to invite you to join them on mission. If you are 21 or older and have 5-15 hours a month to give a child – YOU can be a CASA! 
Those interested can attend a virtual only general information meeting which are held twice a month at different times to provide flexible options.  
To learn more and Change a Child's Story Follow the Link to find General Information Meeting Dates and Register: 
Those interested can also take the first step and follow these links below.   
CASA Kane County is nonprofit volunteer organization advocating for the best interest of children in abuse and neglect situations throughout Northern Illinois. CASA (Court Appointed Special Advocates/Guardian ad Litem) volunteers are specially trained to become the objective voice of a child for a judge.