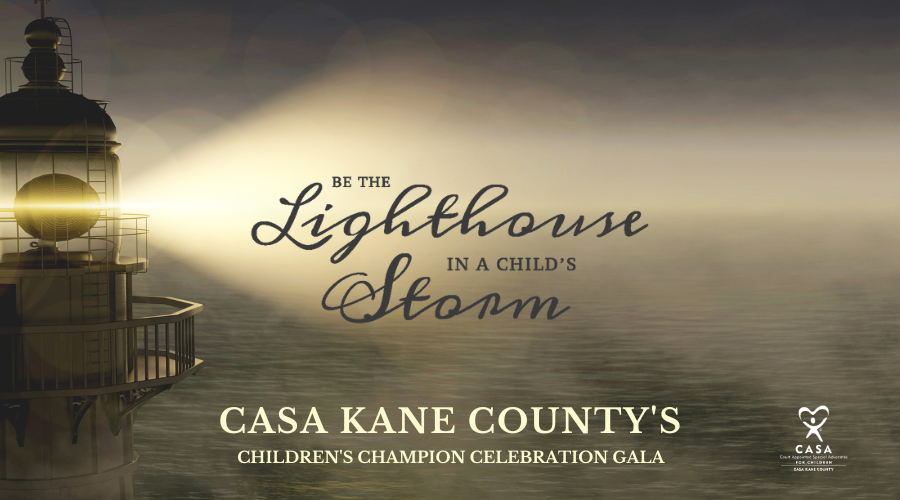 For Immediate Release January 31, 2023
CASA Kane County's annual Children's Champion Celebration will take place on Saturday, March 4, 2023 at the Q Center located at 1405 S 5th Avenue in St. Charles. The theme this year is, Be the Lighthouse In a Child's Storm. 
"We believe that every individual has the power to shine light into the darkness for children in our community who have experienced abuse and neglect. Each of us, in our own way, has the extraordinary ability to Change a Child's Story™." Executive Director of CASA Kane County, Jim Di Ciaula.
Guests will enjoy silent and live auctions, a grand raffle, formal dinner, with VIP upgrade options, complimentary professional photos, musical entertainment, and dancing to the music of Soda. All are welcomed and encouraged to attend and learn more about CASA while enjoying a magnificent night supporting our community's most vulnerable youth.
This year CASA Kane County is pleased to announce Ryan & Raffaella Fuelling will be honored as the Children's Champion award recipients.
Auction items include several exciting trips (Cabo, Key West, Isla Bella Resort and more), Andrea Bocelli Concert evening with dinner at Carmine's, "Rooftop Party" at the Graceful Ordinary, a number of golf experiences, as well as packages from many local establishments.
The winning Grand Raffle tickets will be drawn at the event. Winners need not be present to win. Grand Raffle prizes include a Private BBQ Bash Party for up to 50 guests catered by Bar-R Que at a location of your choice. You plan the menu and sit back and enjoy with your guests, valued at $2,500; Gas for a Year, which provides gift cards to fill up with a value of $2,500 donated from Parent Petroleum; Flowers for a Year  donated by Town & Country Gardens provides seasonal flowers delivered to your door monthly a $1,800 Value; Stocked Bar Cart, value of $1,500 beautiful bar cart stocked with beer, wine, spirits and more donated by friends of CASA, and Date Night for a Year, gift cards for a new dining experience each month valued at $1,200 donated from friends of CASA. Winners need not be present to win. Tickets may be purchased for $20, or seven for $100. To purchase tickets, please call 630-232-4484 or visit our website, http://weblink.donorperfect.com/GalaRaffle2023
Tickets to attend the Gala are $250 per person and may be purchased by calling the number listed above or visiting our website at: www.casakanecounty.org/childrens-champion-celebration/
CASA Kane County has continued to see a dramatic rise in child abuse and neglect cases; in 2022 we had a heartbreaking record number of 613 children coming into care. It is only possible for CASA Kane County to have success with the CASA/GAL program due to our 202 volunteers who devote 10-15 hours a month to one or more children/youth in the foster system. CASA (Court Appointed Special Advocates) Kane County serves 100% of children ages 0-21 who have been victims of abuse and neglect originating in the county but whom are located across northern Illinois. 
CASA Kane County is a nonprofit organization that trains and supervises Court Appointed Special Advocate (CASA) volunteers who advocate for the best interests of children who have experienced abuse and neglect. Last year, the more than 200 CASA volunteers served over 600 children throughout Kane County. For more information, please visit www.casakanecounty.org.
Secure your tickets and sponsorship today by contacting Natalie at NatalieB@casakanecounty.org we appreciate your support.
Join us for a fabulous night supporting our community's most vulnerable youth.
CASA Kane County is currently seeking VOLUNTEERS! To learn more, visit the organization's website at www.casakanecounty.org or call 630-232-4484.