POSTED BY THE KANE COUNTY CHRONICLE – 
3/29/2022 

April is National Child Abuse Prevention Month and Court Appointed Special Advocates Kane County, a leading nonprofit agency training volunteers to advocate on behalf of children in abuse, neglect and private guardianship cases, is hosting its annual Hands Around the Courthouse event at noon on April 7 at the Kane County Courthouse at 100 S. Third St. in Geneva. All members of the community are encouraged to participate.
Child abuse and neglect has risen at alarming rates following the pandemic, according to a news release from CASA Kane County. Rates of child abuse and neglect are five times higher for children in families with low socioeconomic status compared to children in families with higher socioeconomic status. Children and youth who have spent time in the child welfare system are more likely to face incarceration, homelessness and unemployment. They are less likely to graduate high school and more likely to be trafficked, the release stated.
This event provides an opportunity for awareness of Child Abuse Prevention Month while reminding the community how to help protect the well-being of all children, the release stated. Attendees can learn more about what they can do as a community member through small acts that help protect children, strengthen families and foster the health and well-being of the next generation.
The event is open to the public and is expected to last about 20 minutes. Speakers include Kane County Judge Susan Boles, Gloria Kelley, executive director of CASA Kane County, and Geneva Mayor Kevin Burns. Participants will be asked to join hands for a moment of silence acknowledging local victims of child abuse and neglect.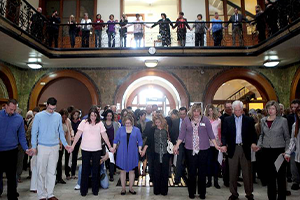 Court appointed special advocates join hands during CASA Kane County's 10th Annual Hands Around the Courthouse event in Geneva. April is National Child Abuse Prevention and Awareness month. The 2022 event is scheduled for April 7. (Shaw Media file photo). (Sandy Bressner)