Kinship care is commonly defined as "the full-time care, nurturing, and protection of a child by relatives, members of their Tribe or clan, godparents, stepparents, or other adults who have a family relationship to a child." 
September is National Kinship Care Awareness Month which recognizes and celebrates those who provide around the clock support, protection, and care for their extended family members. It is essential to acknowledge and encourage the considerable contributions of kinship caregivers when children cannot remain safely with their parents.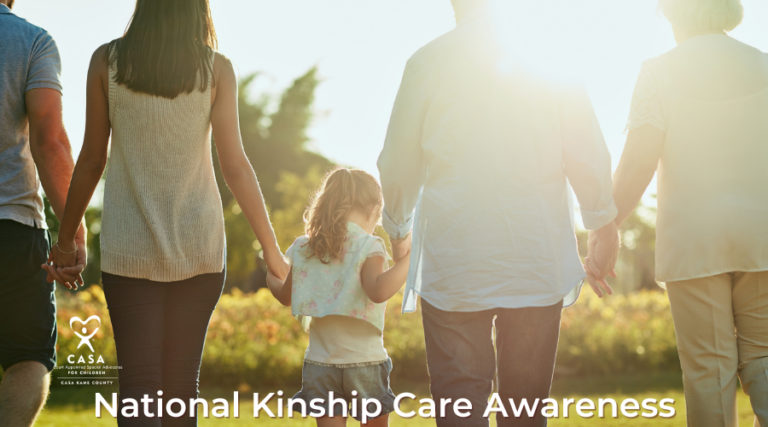 Kinship adoption refers to the formal legal adoption process of a child by their grandparents, aunts, uncles, godparents, older siblings, extended family members, or others to whom children and parents ascribe a family relationship. Some jurisdictions recognize "fictive kin," those that are not biologically related but have a strong relationship with the child, as meeting the requirements for a prospective adoptive family through kinship. (https://adoptioncouncil.org/article/kinship-adoption/)
It is extremely important that kinship caregivers receive the support they need when a child is in their care. The ability to bring in a child as your own and take ownership of their well being and future trajectory is a huge role that comes with many questions, responsibilities and changing family dynamics. The decision to be a kinship caregiver should be respected to continue to the family's cultural values, emotional ties and family intact.
There are many benefits to placing children with relatives or other kinship caregivers. The benefits of Kinship care or adoption include increased stability and safety, the ability to maintain family connections and cultural traditions.
A recent stat from AFCARS (Adoption and Foster Care Analysis and Reporting System) report indicates that in FY2020 about 35% of the adoptions that took place through the foster care system were completed by stepparents or other relatives. (https://www.acf.hhs.gov/sites/default/files/documents/cb/afcarsreport28.pdf)
Becoming a kinship care provider can be challenging for those involved as there is much to navigate. Usually, there is little time to make the decision to bring a kinship placement into your home. Often, the Kinship caregiver knows and love the child(ren) and the child's parents. You may have or not been aware of the situations that have led to you becoming the primary caregiver for this child. The child you are caring for is struggling with the changes in his or her life as well.
Below are tips from creatingafamily.org for smoothly integrating children adopted through kinship into a family.
Get Educated. Adoptive parenting is different from parenting kids from birth. Not worse, not better, but different. Preparation, education and resources are needed when adopting a niece, nephew, or grandchild as other adoptive parents.
Seek Expertise. An adoption attorney or adoption agency will be needed to help you navigate through a kinship adoption. Make sure to qualify who you hire and confirm how many kinship adoptions they do each year in your state.
Keep the focus on the child. What is in the child's best interest as you navigate the post adoption relationships in your family. This is sometimes easier said than done, so spend time pre-adoption talking with your extended family members about what you think is best for the child.
Have a written openness adoption agreement in place before the adoption is finalized. Include things such as the type of contact both the adoptive parents and birth parents want, how often, etc.
Understand dynamics of blending children by birth and adoption. If you have children already in your family, spend some time understanding the impact of combining adopted kids with bio kids.
Listen to friends, family, and experts on kinship adoptions and how to make them the most effective and loving they can be!