A Call to Businesses to Partner with CASA Kane County
As a 501(c)3 nonprofit organization, CASA (Court Appointed Special Advocate) Kane County relies on the support of the community to fulfill its mission to advocate for the best interests of children in abuse and neglect cases within the Juvenile Court system. CASA is fortunate to receive an assortment of funding from individuals, foundations, businesses, churches, and organizations, with much of the constituency being individuals and Mission Partners.
People have a variety of ways to support the mission, whether it be making a direct financial donation, attending special events, providing incidental items, or volunteering their time. One area of great potential for growth is support from corporations. Businesses typically support nonprofits through event sponsorships, corporate employee giving programs, or corporate matching gifts. To take it a step further, an even more comprehensive model of corporate support is through staff-wide campaigns that offer a multitude of ways to support for an entire year.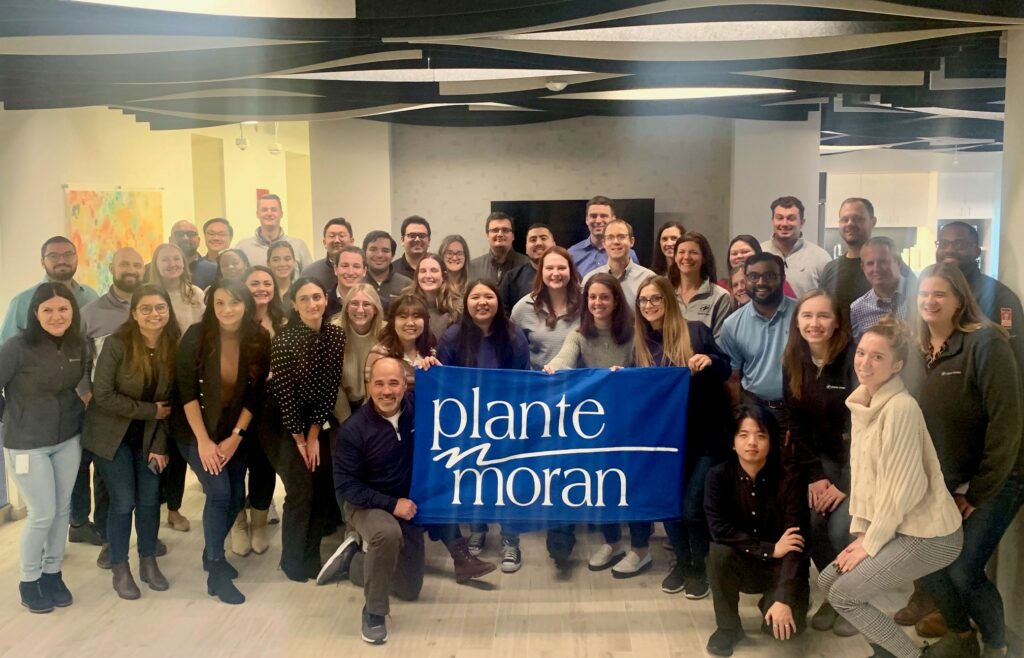 A Business Giving Program Model to Aspire
One prime example is Plante Moran, one of the nation's largest audit, tax, consulting, and wealth management firms. Named by Fortune magazine as one of the country's "100 Best Companies to Work For" and People magazine as one of "100 Companies That Care," the firm's "We Care" motto is a fundamental part of its culture.
Co-founder Frank Moran often referred to the firm as "a people firm disguised as an accounting firm" because people are at the core of everything they do. And with caring as a core value, it's no surprise they have a formal program designed to give back. Plante Moran Cares provides their staff with the opportunity to make a difference in the communities where they live and work. While it's a firmwide initiative, the focus is localized and grassroots, empowering office-based efforts. They've seen that fostering personal participation and interaction is an authentic way to share their "We Care" attitude with local communities.
The offices choose a different charity each year—and Plante Moran's Schaumburg office (approximately 130 staff members) chose CASA Kane County as their Plante Moran Cares charity for their 2023-34 fiscal year. While the original nomination began with a personal staff connection to a CASA/GAL Volunteer, the reasons CASA Kane County was chosen went deeper.
According to Ed Slack, CPA and Plante Moran partner, ultimately staff rallied behind CASA Kane County because:
"We knew they were fighting on behalf of so many vulnerable individuals who didn't have a voice. Plus, their leadership's enthusiasm for the work was beyond comparison. They took the time to come and educate us on their program. It was clear their heart is part of servant leadership. We're proud to support CASA Kane County and look forward to a mutually beneficial experience!"
CASA Kane County Director of Education and Training, Sandie Cross, and Annual Giving Manager, Adriana Plocinski, visited with the Schaumburg office for a "lunch and learn", which helped to reinforce excitement and support for the Plante Moran Cares initiative. The staff learned more about the CASA mission, the need for financial and volunteer support for the increasing, record-breaking number of children served, and the impact made on the trajectory of their lives by providing a trusted Volunteer to advocate for the voice of children in foster care.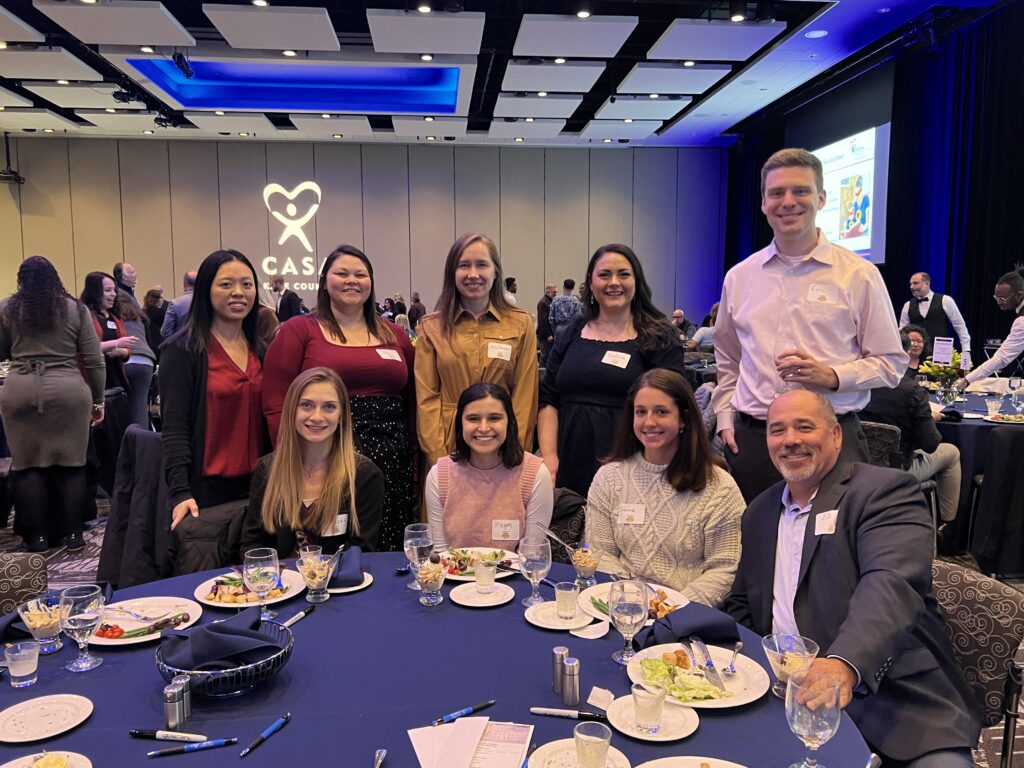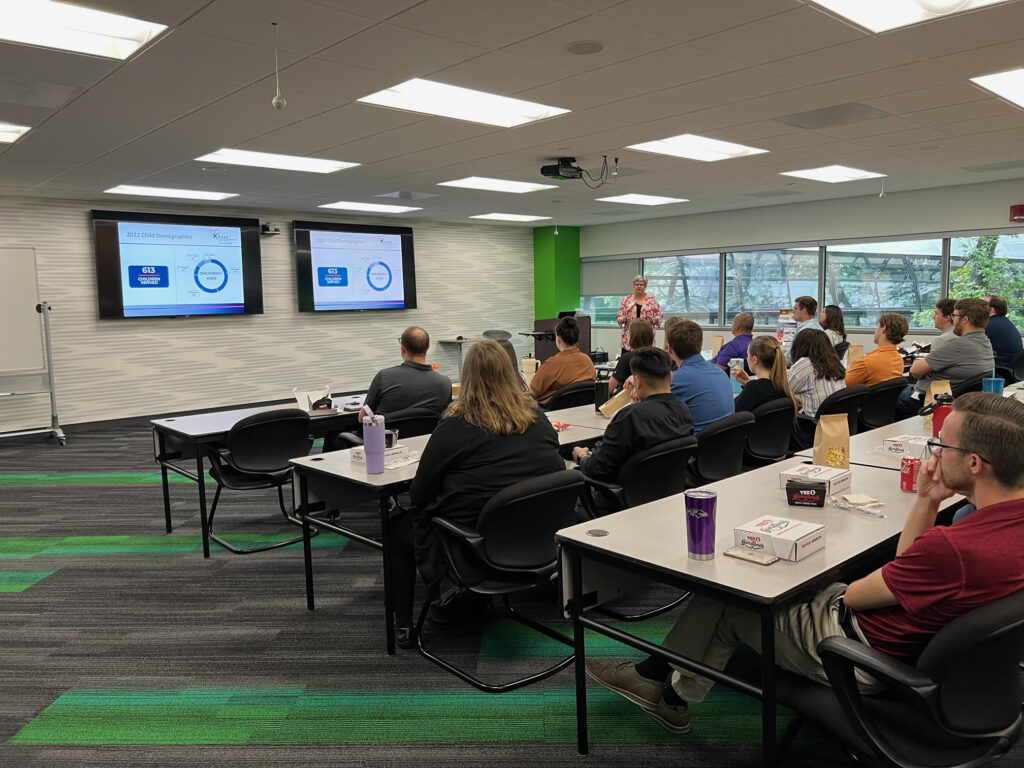 Mutual Impact of Business Support
As businesses take the initiative to contribute and support the community needs around them, they receive just as much as they give by becoming a cohesive team all aiming for the same goal. Plante Moran Cares Co-Captains Hailey Dammeier, CPA, and Lindsay Schroer, CPA, have taken their team fundraising support to a new level in creating a fun, competitive atmosphere among staff members as they give back and serve the community beyond the scope of helping their clients.
Hailey and Lindsay have organized a team-based giving event in support of Giving Tuesday, November 28, 2023, a global day of giving to charities, in which each team will compete to bring in the most gifts for CASA children in care for the holidays. Additionally, they will host a March Madness bracket in the spring and look to get involved in the various events sponsored by CASA Kane County, including helping to wrap gifts for the Holiday Giving Event, volunteer at the Children's Champion Celebration Gala on March 2, 2024, and attend various other events throughout the year, similar to their recent attendance at CASA Kane County's Super Heroes Luncheon, an event designed to spread awareness of the CASA mission and build support from community members.
It is no wonder Plante Moran was recently celebrated as a "Legend" company after being named to Fortune® magazine's "100 Best Companies to Work For®" list for 25 consecutive years. They have taken their responsibility to give back very seriously in providing an entire fiscal years' worth of support. CASA Kane County Executive Director Jim Di Ciaula believes,
"They are a prime example of how businesses can partner and strategize to answer a call of need in the communities in which we work and live. We cannot do this work without supporters and businesses like Plante Moran. Because of their generosity, we are making a difference together."
There is no greater gift in life than a committed and caring adult that will see that child through the most turbulent and scariest times in their lives. Working together, CASA can ensure children in care don't fall through the cracks and are given the opportunity to thrive. With a CASA volunteer, children are more likely to be adopted, spend less time in the foster care system and to find an effective plan for permanency.
If a business has a campaign or giving program and would like to join forces with CASA Kane County to serve vulnerable children in the community, please contact Annual Giving Manager, Adriana Plocinski, to notify of interest and get the conversation started. The possibilities are endless in ways to work together. Businesses who support and serve together with CASA not only have the power to Change a Child's Story with acts of generosity and social responsibility in the communities where they work and live, but they
also receive the benefit in building staff collaboration, motivation, and cohesiveness as a collective goal is achieved and celebrated. The overall result is the impact of creating a brighter future for all!
CASA Kane County's tireless commitment to advocating for children who have experienced abuse and neglect is truly commendable. If you are inspired by CASA Kane County's mission and wish to make a difference in the lives of our youth, consider becoming a CASA volunteer or supporting our vital work through donations.
CASA Kane County is currently seeking VOLUNTEERS! To learn more and Change a Child's Story, please visit the organization's website at www.casakanecounty.org or call 630-232-4484.