August is National Make-A-Will Month (MAWM) ─ an incredible opportunity to raise awareness on the importance of estate planning to protect the people and communities you love. Everyone needs a will, whether they're 18 or 80. And, there's no better moment than now to find some peace of mind in planning for the future.
Yet, only about 30% of Americans say they have a will, (Lustbader, R. (n.d.). 2023 Wills and Estate Planning Study. Caring.com) which means that nearly two-thirds of American adults do not have an up-to-date estate plan. Part of the reason may be some of the myths that exist regarding estate planning, such as they only apply to wealthy people or that family members already know the wishes of their loved ones; however, neither are credible. The fact is, that wills are important regardless of one's wealth status. A will is established to protect children, pets, charities, etc., while saving loved ones from stress and uncertainty. Plus, the family does not get to make decisions on assets of a deceased loved one if their wishes are not documented in writing; the government makes those decisions, and often slowly while costing money from the estate.
Leave the Gift of Legacy: Make-a-will
There are more benefits to leaving a legacy, both for the donor and the people and causes they care about. No one likes to think about their own mortality, but people do like to think about making a difference while they're here, and even better, making a transformative impact for many generations to come. This is the essence of leaving a legacy. Inevitably, creating a will and estate plan allows donors to communicate important financial and healthcare decisions, so they are prepared for whatever the future may hold.
In addition to leaving a legacy gift to loved ones, people can designate legacy gifts to their favorite charities. The easiest planned gift is to leave a portion of their estate to the organization as a bequest in their will. Even if that gift is only 1% of a donor's total estate, it can have a huge impact on the future security of living out the mission of the organization. It has been shown that "nonprofits who raise non-cash assets are able to grow 6 times faster, which translates into security and longevity of mission." (James, Professor Russell, J.D., Ph.D., CFP®. Cash is Not King in Fundraising: Results from 1 Million Nonprofit Tax Returns)
For CASA (Court Appointed Special Advocate) Kane County, this type of legacy gift translates into protecting many children and families for generations to come. Fortunately, CASA has a constituency of repeat donors who give on an annual basis. However, current cash gifts are not the only focus. Per the 2017 US Census data, 98% of all wealth is in non-cash assets. America is on the cusp of 78 million Baby Boomers transferring $68 Trillion in non-cash assets to the next generation over the next 20 years. (CDC/NCHS, National Vital Statistics System) As a result, non-profits have exponentially more to gain from non-cash legacy gifts from a sustainability perspective than a present-day cash gift. For example, a $100 cash gift versus a $3,500 Qualified Charitable Distribution (QCD) gift versus a $48,000 bequest commitment shows the difference between the greatest return to the beneficiary being a long-term investment. One gift provides an immediate need; whereas, the non-cash gifts provide security and impact for the future.
Unfortunately, the needs of children in foster care will continue for years to come, and the needs to provide them with incidentals and a trusted CASA Volunteer will continue with them. A legacy gift to CASA Kane County would provide protection and peace of mind to thousands of children who have been abused and neglected, uprooted from everything they know, to provide them with security until a safe permanent home is found. The longevity of a legacy gift provides CASA with the security of not having to find funding year after year. This kind of sustainability in long-term funding for the CASA mission is immeasurable.
A New Resource for a Generous Community
If creating a will feels cumbersome timewise and financially unobtainable, there are newer resources available that thousands have already used to take care of their families – an online will-writing tool. One such company, FreeWill, is a self-help estate planning resource to write a legal will for free. Using FreeWill, you can write your will in 20 minutes or less and create a plan that protects what you love most.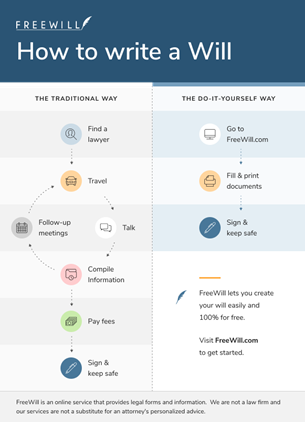 Last MAWM, more than 70,000 people trusted FreeWill to help them create their will and protect what they love at no cost. Consistent with our mission to change the trajectory of a child's life with compassion and integrity, offering an easy and intuitive online tool like FreeWill is a way of improving the future community by providing access to basic, free legal help.
While writing a will, people can join the CASA supporters who have helped the thousands of children who face abuse and neglect in Kane County by leaving CASA Kane County a percentage of their residual estate in their plans. In designating CASA Kane County in their will, donors can help CASA with funding to the next level.
CASA Kane County hopes this resource will provide support, information, and peace of mind for donors and their loved ones, just as they do for the vulnerable children in our community. This generation has the potential to unlock transformational gifts and drive impact for years to come.
If you have any questions on leaving CASA Kane County a legacy gift, please contact Deputy Director AnnMarie Fauske at AnnMarieF@casakanecounty.org
Will you help CASA Change a Child's Story? 
If you want more information, you can take the first step and follow the link below.  
Contact Annual Giving Manager, Adriana Plocinski for more information.
Call: 630-444-1305 Email: adrianap@casakanecounty.org
 To learn more and Change a Child's Story, please visit the organization's website at www.casakanecounty.org or call 630-232-4484.