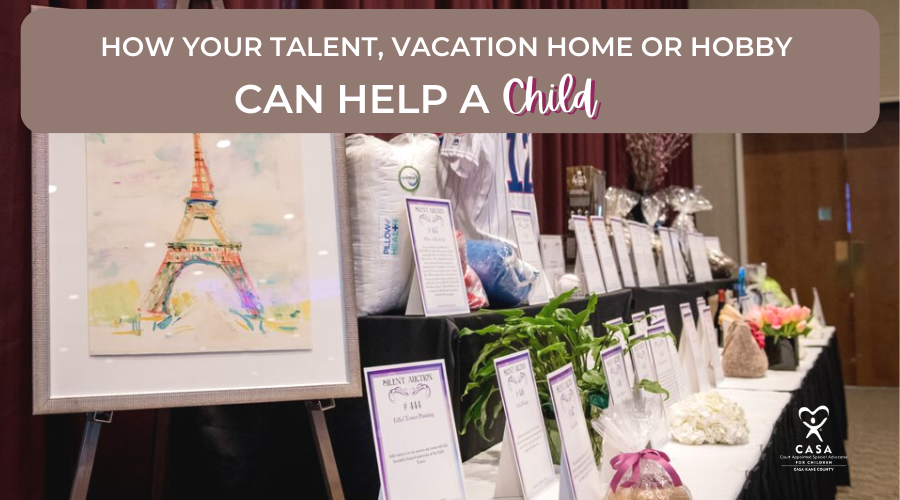 An idea that has been gaining popularity is the concept of donating unique experiences to auctions or raffles to raise money for worthy causes. Donating experiences to CASA Kane County's Children Champion Gala is a great way to support CASA's mission while also providing attendees with an enjoyable and memorable evening.
CASA Kane County will be hosting the 29th Annual Children's Champion Gala on Saturday, March 4, 2023 at the Q Center in St. Charles.  The theme this year is "Be the Lighthouse In a Child's Storm".  CASA believes that every individual has the power to shine light into the darkness for children in our community who have experienced abuse and neglect. Each of us, in our own way, has the extraordinary ability to Change a Child's Story™.
Anyone can donate items or experiences, both individually and as part of a  business to support non-profit gala auctions. Businesses can offer a variety of items, such as gift cards, vouchers, and products. Additionally, businesses can offer unique experiences such as private classes, tours, or tastings. Donations help to raise funds for the children who have experienced abuse and neglect who are supported by CASA Kane County, and the business will receive recognition and  publicity from the event.
These experiences can be auctioned off at the Gala, with all proceeds going towards the cause. Donating experiences can be a great way to engage guests and are remembered long after the event while also helping to raise money for the non-profit. Experiences can include anything from a private cooking class or wine tasting to a spa treatment or a guided tour of the city.
Here are some themes to get you thinking about things that can be donated to CASA's charitable auction:
Local Experience 
Donate something that would be a fun experience for children such as a zoo or a water park. This can be anything from a free pass to a day pass to a yearly pass for visiting the establishment on a regular basis. You could also organize an experience for a child of the donor's choice to visit the local establishment and experience the trip with them.
Travel
Traveling around the country or the world is not only fun, but it can also help to broaden  horizons and open up your mind to different ideas and perspectives. A great way to donate to CASA's charity auction is by donating a stay in your vacation home or timeshare. By donating to this charity fundraising event, you'll support children in Kane County, generate goodwill, and get some extra publicity for your rental. Having a listing in a popular charity auction could lead to  many new regular tenants. You could also offer the winning bidders the opportunity to extend their stay beyond the free rental period—for an additional fee. Donating a vacation rental to a charity auction can be a great idea, particularly if you do so during the "off-season".
Go-To Adventure
This is a great way to give someone something that they will remember for a long time. Donate a luxury camping trip or even a luxurious day spa treatment to enjoy on their own or with a friend. This will help CASA Kane County increase its charitable funds while making the recipient happy they've gotten an amazing gift in return. You could even donate a fishing trip or a weekend kayaking excursion with a group of friends and help them make lasting memories.
There are many experiences you can gift for the Children's Champion Gala:
Airline Miles

Vacations Home or Rental

Golf Vacations at a Golf Resort

Cruises

Concert Tickets

Round of Golf

Golf Lessons

Music Classes

Fitness Memberships

Sports Lessons

Sky Diving Voucher

Hot Air Balloon Ride Experience

Wine/ Bourbon Tastings
Broadway Show Tickets for a Couple or Family

Private Dinner for two cooked in-home by a professional chef

Tour of a Local Winery

Yoga or Meditation Session

Art or Photography Class

Private Sailing or Boat Tour

Luxury Spa Treatment

VIP Tickets to a local Event

Tour or Tickets to a local Museum

Private Cooking Class
No matter the value of the donated item or experience you are contributing to the event and organization to better the lives of the children in Kane County. CASA Kane County appreciates all donations and couldn't fundraise without you!
One thing to keep in mind is the value of the item that you're donating. Provide this information to CASA so we can properly record the fair market value as there could also be tax benefits, as well. Once you've decided what you'd like to donate, you'll want to make sure that you're ready to deliver it when the time comes.
CASA Kane County has continued to see a dramatic rise in child abuse and neglect cases. Supporting in any way you can, donating, attending or purchasing raffle tickets will have a remarkable impact in helping us raise the increased funds needed to ensure the foster youth we serve are placed in a safe and permanent home.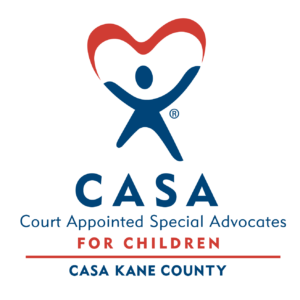 Will you help CASA Change a Child's Story? 
If you want more information, you can take the first step and follow the link below.  
CASA Kane County is nonprofit volunteer organization advocating for the best interest of children in abuse and neglect situations throughout Northern Illinois. CASA (Court Appointed Special Advocates/Guardian ad Litem) volunteers are specially trained to become the objective voice of a child for a judge.
To learn more and Change a Child's Story, please visit the organization's website at http://www.casakanecounty.org or call 630-232-4484.